At this point in 2018, it's almost impossible not to be involved in some sort of Friendsgiving celebration, whether you're hosting it or have just been invited to one. Friends giving has officially taken over the holiday of Thanksgiving, and it's not hard to see why: it's a second Thanksgiving dinner, but one that includes your closest friends and probably a whole lot more wine. There's also a lot less pressure surrounding Friendsgiving than Thanksgiving — it's more relaxed and chill, and it's all about having fun. It's great on its own, but there are things you can buy that will make Friendsgiving even better. You can grab these things if you're hosting and want to pull off a great night, or just offer them up as a little gift to whoever is hosting (they'll appreciate the help!).
The below items will do a variety of things: make cleaning up a little bit easier, make getting the food together a faster experience, and make the atmosphere and vibe a lot more fun. You and your friends can undoubtedly have a great time with just food, drinks, and each other's company, but sometimes it's nice to throw some props into the mix to make things a little more exciting. It's a party, and you definitely want it to feel that way!
The other good thing about these? They're all under $50. You don't need to spend a ton of money to have an incredibly celebration. Check out the below items that will bring your Friendsgiving to the next level: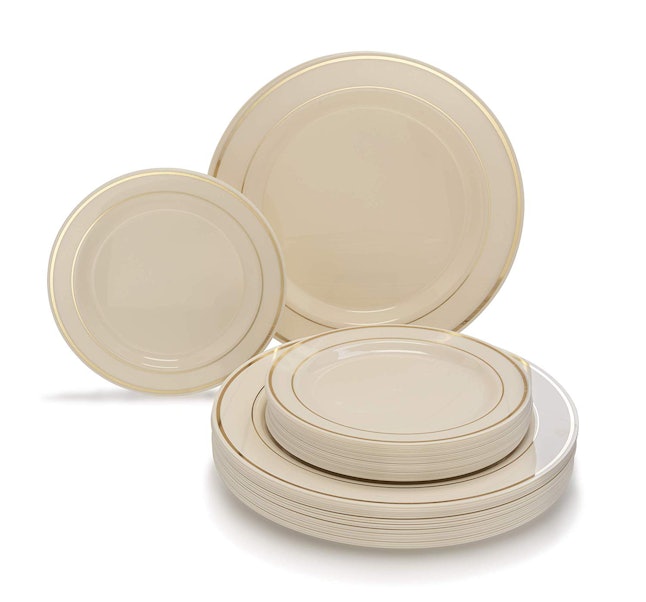 If you aren't already using disposable dinnerware at Friendsgiving, then what are you even doing? Sure, it's nice to feel fancy and chic with real plates and all of that, but it's also a huge pain to clean up later on. No one wants to deal with washing dishes when they could be hanging out with their friends. Instead, use disposable plates that look nicer than a plain paper plate, like these from Amazon. Just remember to rinse them off and recycle them.